Better Oversight.
Less Paperwork.
Awesome Culture.
Eliminate paperwork and create a culture that people are excited to be a part of by giving ClassWallet to users who make a lot of "day-to-day" purchases.

What We Do
Most purchasing and accounts payables paperwork is generated from the high volume of "day-to-day" supply and unplanned purchases
While maintaining the highest levels of oversight and control, ClassWallet eliminates paperwork and manual processes, and gives users a nimble way to purchase goods and services.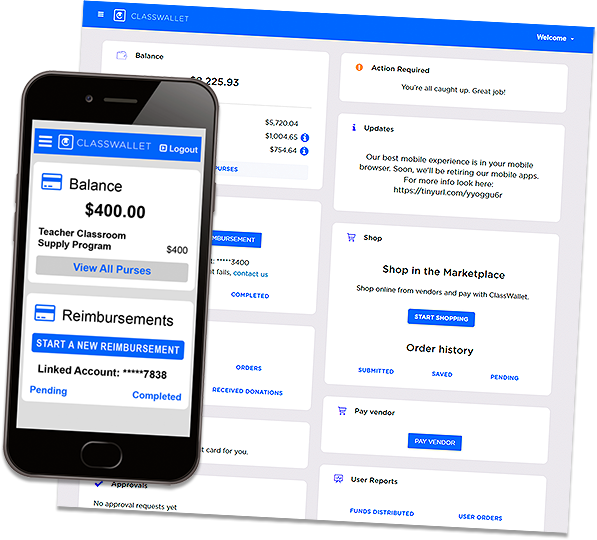 You
establish what they can buy, where they can buy it, and how much they can spend.
ClassWallet
automates the receipt collection, approval workflow, data reconciliation and transaction settlement.
Your Organization
evolves into an awesome, more productive, paperless work culture that all stakeholders are excited to be a part of.
Suite of Solutions
A Complete Solution for Several Types of Users
Give ClassWallet to your teachers, maintenance crews and families.
---
Empower Teachers Without Compromising Oversight
TeacherWallet is a more streamlined way for teachers to get the resources they need to maximize student outcomes
---
Bridging the Gap Between Maintenance & Finance Departments
MaintenanceWallet is a better way for maintenance crews to get supplies and accomplish their goals more efficiently
---
Provide an Optimal Experience for Grant and Scholarship Recipients
FamilyWallet is a more impactful way for students to get goods and services outside the school system
Features
Purchasing Methods Through ClassWallet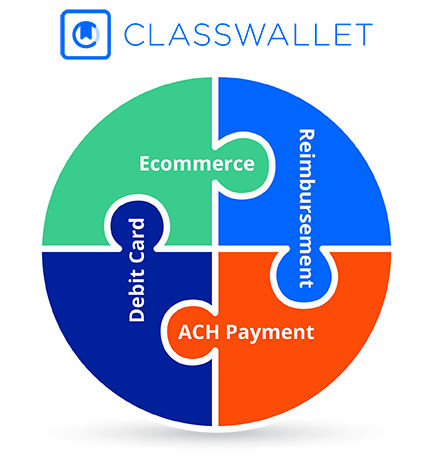 Streamline back office reconciliation with all the controls you need for any type of transaction - whether online or with local retailers and service providers.